Oil refineries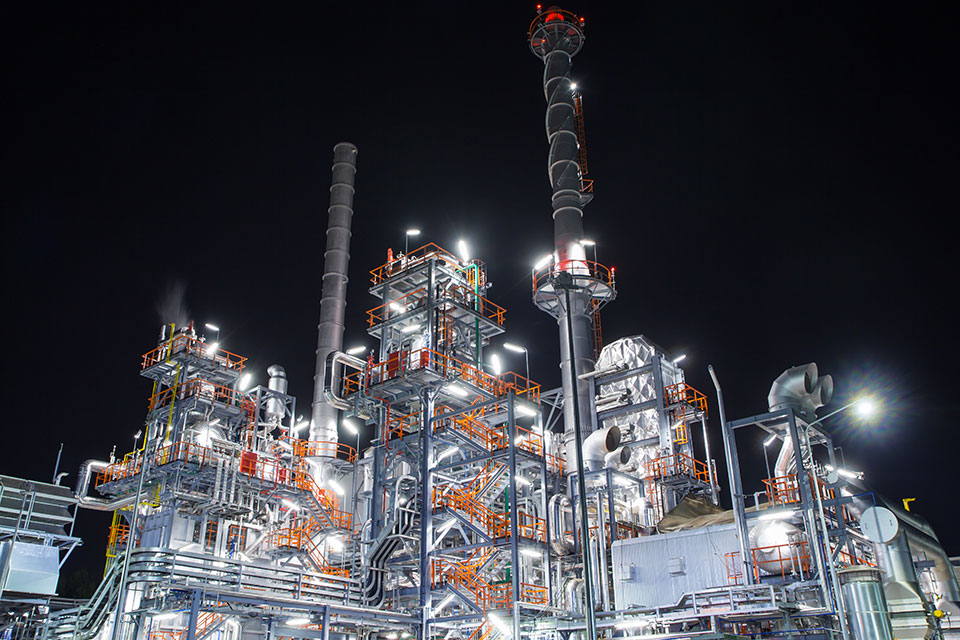 PSC S.r.l. Engineering & Contracting (PSC) works for important and recognized Petroleum Oil Refinery Companies in international markets and projects.
PSC designs and supplies the following packages, plants and complete systems:
Wastewater treatment plant
Wastewater treatment plants to handle effluents from oil refinery operation productions as follows:
Produced water from desalters;
Sour water from distillation, fluid catalytic cracking, catalytic reforming, coker, hydro treating process and acid gas removal unit;
Spent caustic from LPG sweeting, gasoline, kerosene, jet fuel and light naphthas sweeting (as per typical Merox process);
Wastewater from product washing,catalyst regeneration and dehydrogenation reaction;
Wastewater from bottom drainage of the raw crude storage tanks;
Cooling tower blowdown;
Boiler blowdown;
Ballast water from refinery product tanks;
Contaminated storm and rain water;
Wastewater from water treatment plants (as brine from desalination, supernatant water from sludge treatment, from ion exchange resins regeneration);
FGD effluent from off-gas scrubbing from thermal boiler;
Sewage effluent from the toilets and canteens.
Wastewater treatment target is usually to discharge the treated effluent complied with environmental discharge limits, restricted by local authorities.
PSC follows a reliable and efficient process treatment to reuse and recover the treated effluent, until to achieve a Zero Liquid Discharge.
PSC provides the best, customized and tailored solution to clients, optimizing the CAPEX and OPEX cost, conforming to various international standards or customer's specification, to quality procedures and certifications.
Water treatment plant
PSC provides the following water treatment plants to supply the required water quantity and quality, consumed by the oil refinery:
River, surface water treatment or ground water treatment in order to deliver cooling water make up, firefighting , other cleaning and washing service;
Demineralization water to be used as boiler make up;
Condensate treatment (oil, iron, copper and residual TDS removal).
Process and special chemical packages
PSC provides the following process and special packages:
Hot oil heating packages;
Chemical dosage packages;
Filtration and gas drying packages;
Crude oil pump station;
Solvent recovery skid unit;
Amine gas treating and recovery unit;
Pneumatic catalyst conveying and loading system;
Elutriation filters for catalyst recovery from fumes of FCC unit.
Automation system
Oil refinery automation system is intended for automation of crude oil atmospheric distillation processes to residual, diesel and gasoline fractions, and their shipment to customers.
The system provides monitoring and control for the following oil refinery facilities:
Crude oil preheater;
Fractionation towers and heat exchangers;
Pump station;
Tank farm for crude oil and finished products;
Chemical agents reservoir;
Terminal compressor station;
Loading racks;
Emergency and drain tanks;
Other processing facilities.
and the following functionality:
Automatic monitoring of all process parameters and equipment status parameters;
Automatic protection of process equipment in case monitored parameters reach emergency and ultimate values as well as in case of support system failure;
Maintenance of standard operation modes;
Stop valves control;
Programmable control and protection of pump units;
Process parameters control;
Visualization and registration of the main process variables and parameters characterizing equipment condition during normal operation, maintenance and commissioning;
Generation of reports;
Logging of events.
PSC realizes the refinery automation system using a set of programmable logic controllers and distributed control architecture.
AUTOMATION AND POWER DISTRIBUTION
Field Instrumentation
PSC provides all engineering and supply for instrumentation system, fully preassembled, tested items, as follows:
Selection of special on-line process analyzers with sampling circuit and device, as per international standard test method, certification, suitable to classification area and project specification;
Design and supply of field instruments and installation materials (cable trays, supports and instrument cables, pneumatic instrument air distribution network, etc.);
Supply of complete skid unit as custody transfer metering unit;
Supply of CEMS (Continuous Emission Monitoring System);
Steam and water analysis system (rack sampling and analyzer panels).
Electric power distribution system
PSC has obtained international certification and supplies the following items and service:
LV power sub-station installed into customized containers complete with firefighting system;
LV switchgear panel board with also UL 508A certified for panel board up to 1200A;
Motor Control Center in fixed or drawable drawers , intelligent or std. execution;
Power rectifiers for electrochemical process as electro chlorination and ozone generators;
Power LV transformers;
Variable frequency drivers and soft starters;
Power cables arrangement with relevant cables, duct, supports, connections, etc.;
Lighting system;
Lightning protection;
UPS and other battery system;
Emergency diesel generator;
Sun power system;
PSC's workshop tests all supplied items and releases CE certification.